There's no denying that cycling fever is sweeping the nation. Bradley Wiggins' victory in the Tour de France followed swiftly by a gold medal in the time trial on Wednesday and Chris Hoy's 5th gold on the track has put cycling at the fore in people's minds.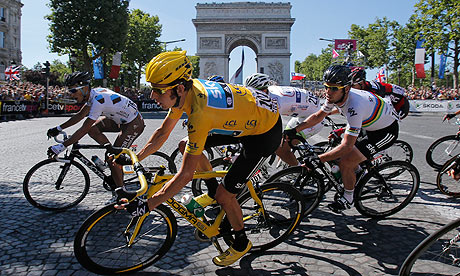 If you plan on following in Bradley's footsteps then perhaps a road bike is for you, but for most people a hybrid bridges the gap perfectly between road and mountain. It's often difficult to decide which is the best bike for you, but head to your local bike shop and they will be able to help you chose the right one. While you're there, make sure you pick up some extra kit to make you safe and visible on the roads.
We recommend that everyone rides in a cycling helmet and again your bike shop will be able to identify one with a good fit. Also get hold of some lights for your bike and hi-viz kit. I ride in a jacket with reflective strips and also a hi-viz cover on my back pack meaning I am nice and visible on the roads. If you need to build up a little confidence on your bike why not head out to a local ride where you can chat to other people and gain some tips on where to ride locally.
British cycling and Sky organise brilliant rides up and down the country for differing abilities, sign up online and join in. Once you've started cycling and been out for a few rides no doubt you'll be hooked on your new hobby and looking for your next challenge. What about that old favourite, cycling from London to Paris, or going further afield and joining our ride from Yosemite National Park to San Francisco.
Until the time comes to head off on a new challenge let's keep cheering on Team GB in the velodrome and keep our fingers crossed for some more gold medals!